China's fixed-asset investment growth continues to slow
2016-08-13 12:38:22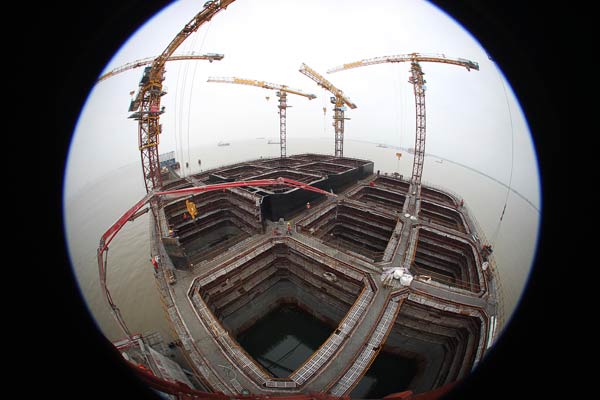 The Shanghai-Nantong Yangtze Bridge under construction on the Nantong side of the river in Jiangsuprovince. [XU CONGJUN/FOR CHINA DAILY]
BEIJING - China's fixed-asset investment grew 8.1 percent year on year in the first sevenmonths of the year, down from the 9-percent rise in the first six months, official data showedon Friday.
Private sector fixed-asset investment climbed 2.1 percent during the January-July period,slowing further from an already weak 2.8-percent rise in the first half, according to data fromthe National Bureau of Statistics (NBS).
NBS spokesperson Sheng Laiyun attributed the continued weakness in private sectorinvestment, which accounts for 61.4 percent of total fixed-asset investment, to the slowdownin export manufacturing, entrance barriers for private companies in some sectors, limitedaccess to loans and widespread flooding in some areas.
Investment growth by state-owned enterprises also slowed to 21.8 percent in the first sevenmonths, from 23.5 percent in the first half.
Infrastructure investment jumped 19.6 percent during the period, decelerating from 20.9percent in the first half.
Fixed-asset investment includes capital spent on infrastructure, property, machinery and otherphysical assets.
The investment figures were among a string of data released by the NBS, including statisticson retail sales and industrial production, which both reported slower year-on-year growth inJuly.